Programme versus Project Risk Management
Programme / project risk management  is the process of managing the total risk of a programme/project of change. Both programme and project risk management are important components of a comprehensive ERM strategy.
A programme is not simply a large project; a programme consists of a number of inter-related projects that together are working towards a shared objective. The processes involved in programme and project risk management are similar, with the added complexity of insuring appropriate escalation from project to programme level.
Programmes of change are more difficult than projects, in terms of identification, prioritisation and management due to the programme's additional complexity. Programme risks which effect the overall strategy of the business should be elevated to strategic risk level.
Why are programme & project risk management necessary?
Programme and project risk management are essential, as most large complex programmes and projects fail to meet their planned objectives on time, whether it be failing to deliver on what was promised, sliding their time-frames or exceeding their budgets – or all three.
Most organisations are undertaking several programmes of change at any one time. These programmes may fundamentally change the way a company or organisation conducts its business. Failure to meet deliverable deadlines may have a severe adverse effect on overall business objectives, profitability and reputation.
Programme risk management versus crisis management
Large programmes and projects are often chaotic, with objectives often unclear and plans/priorities constantly evolving and changing. It can be tempting to take these problems as they come, but this can cause a business to become caught up in crisis i.e. issue management instead of true risk management.
To use an analogy, programme risk management is like knocking a missile out of the sky as it comes over the horizon, whereas issue management is like clearing mess from the resulting craters.
Transformation risk management
Any programme or project which significantly changes, or "transforms" the business operations of an organisation will expose the business to most risk. This is due to two reasons:
Risk is increased to current operations (which have to accept the changes whilst continuing to run the business)
Risk is heightened for the project which is trying to change those same business operations as there will often be push back at crucial stages such as testing.
For this reason, transformation risk management is the riskiest form of programme risk management, as you have the normal complications of a programme with all the additional complications of transformation.

 Our processes and techniques
The ABCD risk management process can be used for all  projects and programmes;  i.e. ABCD is fully scaleable, in that it handles all the hierarchies and escalations that traditional methods normally fail to address and therefore ensures that management can "see the wood for the trees".
The ABCD Strategic Target Analysis technique can be used to assess the percentage confidence of achieving key milestones and showing the specific assumptions that need to be managed in order to recover timescales.
The Assure web-based toolset is the most effective way of embedding the ERM process into the business. Assure is the only toolset commercially available that has built-in prioritisation and escalation rules that ensure true enterprise risk management.
Why the De-Risk approach works
Projects are often impacted by risks that were foreseen in the minds of key individuals, but were not communicated at the right time and therefore not managed by the project team. If a way can be found of unlocking the collective knowledge and viewpoints of all the key stakeholders around the project/programme, then a valuable insight into the true risks to the objectives would result. The ABCD risk management methodology provides this insight to the risks and the means to effectively mitigate them.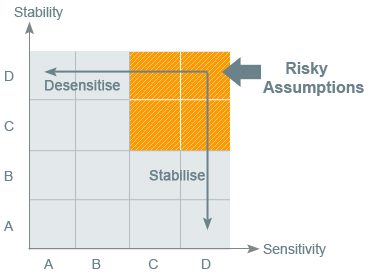 Our ABCD approach to programme and project risk management provides a simple, common, positive languge for the communication of risk within a team or project hierarchy. This, in turn, facilitates a simple overview of complex risks for programme and project leaders/decision makers.
The implementation of ABCD also allows De-Risk to work with you to make the programme risk management process as flexible and adaptable as possible, ensuring significant risks to the project or programme are identified and controlled at the correct time.
Finally, our non-intrusive and non-bureaucratic approach improves management discipline across the organisation and has a track record of being readily accepted by project teams.