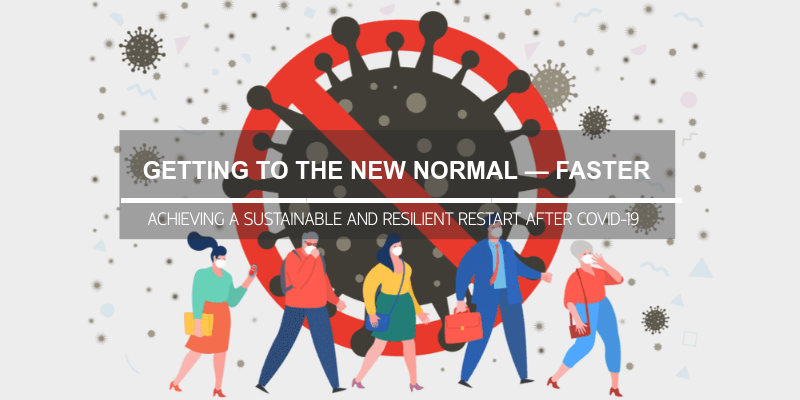 Getting to the New Normal — Faster: A Sustainable and Resilient Restart
Why businesses should think of the coronavirus lockdown as an opportunity, not an obstacle
Whilst some previous government thought and pre-planning had gone into the risk of an influenza pandemic, the coronavirus pandemic is possibly the greatest Black Swan event of our lifetime. Covid-19 has transformed both personal lives and the commercial landscape and economy overnight, inflicting a lot of misery and uncertainty for many businesses: especially the B2C (business to customer) sector.
As we learn more about the virus, it is slowly becoming less frightening, and more manageable in its various phases. However, we now know there are longer-term health risks and complications in Covid-19 survivors, and especially in those who have been on ventilators. This is placing an enduring new healthcare load on an already battered and battle fatigued NHS.
Applying different Covid-19 infection management approaches across the nation's healthcare sectors, beyond just the NHS, has provided a sobering lesson in poor and limited pandemic health impact risk management with, at the date of publication, nearly 45,000 deaths, over 670 deaths per million population: the world's second-worst behind Belgium.
This has highlighted that pandemic risk management has to use a system-of-systems assessment and management approach. Focusing Covid-19 treatment efforts on the NHS pushed the problem out to the care homes, home caring and other sectors that weren't similarly prioritised with PPE and infection control guidance, among other things.
Further improvements in rapid-result (~15 minute) antibody blood tests (to find out if people have already had the virus, and developed some form of immune response) and anti-gen swab tests (to trace the people currently infected) will hopefully allow better routine infection control and management. This will allow the establishment of a 'new normal' for our home and business lives.
Coronavirus vaccination development efforts in labs across the world are showing remarkable progress to provide inoculation against Covid-19, and hopefully similar ones. An effective test, track and trace system, strict personal hygiene, hand washing, and the wearing of face coverings are also seen as components of the Armoury in reducing the impact of a resurgence of Covid-19. Once again a global crisis has reiterated the adage 'necessity is the mother of invention/innovation'.
Every cloud has a silver lining, and the Covid-19 imposed business lockdown and economic pause, whilst devastating to families that lost loved ones, the UK economy and employment, has provided an opportunity for review, reflection and refocus. There are reasons for optimism. Some analysts, including at the Bank of England, are expecting the economy to bounce back in a rapid 'V' shaped recovery, or, if a second Covid-19 peak materialises, a 'W' shaped recovery.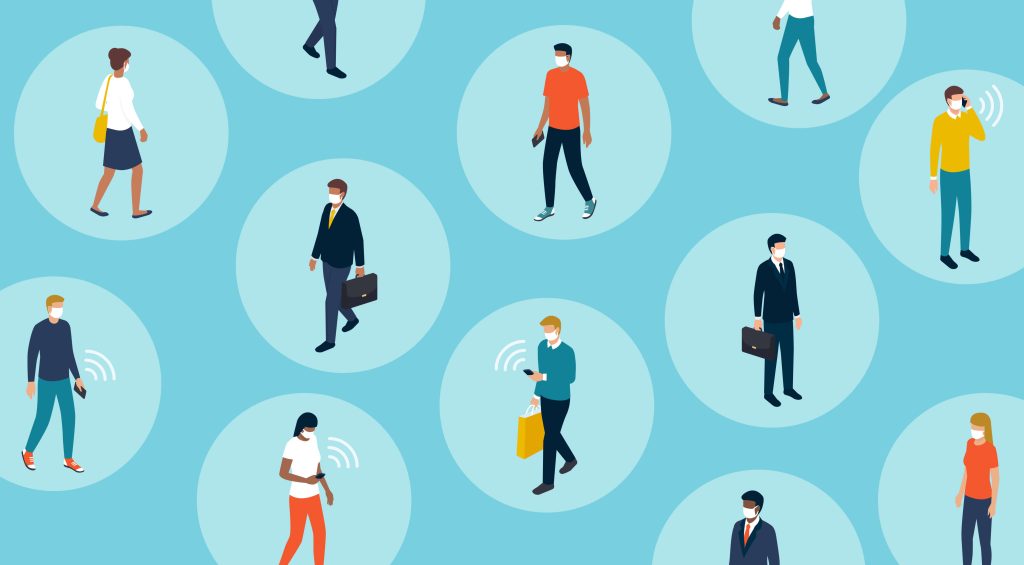 The impact of Covid-19 is also a once in a lifetime opportunity to reflect on and change business practices.
Crucially, the lockdown has provided a once in a lifetime opportunity for businesses to self-reflect on current practices and processes — and to change them if necessary — at a point when resistance to change is at its lowest, and building future crisis business resilience is at its highest. This opportunity is too good for businesses to miss. If managed and planned appropriately, the foundations can be placed for greater returns at some later date, and less business disruption to similar crisis events.
But the same forces behind what created this window of opportunity are also what make it a precarious moment in the emergence and existence of many businesses. Most businesses will have their focus on rapidly generating cash flow by getting back to where they were pre-lockdown as soon as possible. Many will try to do this in ambitious timescales or without any real risk management planning for re-infection, and therefore open themselves up to multiple and possibly unbounded business-killing risks.
These risks can be managed with the right approach, but a 'return to the old normal' is a path strewn with potential risk and danger. The 'open doors and enjoy a drink' policy for the pubs and restaurants that opened on 4 Jul 2020, and the almost immediate closure again of a number of pubs after customers test positive, is a case in point.
The importance of transforming, not transitioning
It is common to hear the news media refer to a transitional period between ending the lockdown and getting back to "normal". But smart businesses looking to exploit the opportunities provided by the pandemic should be looking to transform their operations — to get to the "new normal" — and not just transition them potentially back to some status quo that is outdated or will become evermore outdated in the near future.
As the lockdown restrictions begin to ease businesses will shift focus from a 'crisis response' phase to a 'business recovery' phase. Immediately, the temptation will be to make up for lost time and to immediately resume core organisational duties. So there is no better time to use the current economic pause for some within and without self-reflection.
This includes, but is not limited to, new workforce operations and functioning approaches such as remote working, the reoccupation and reassessment of previous work facilities, and the readjustment of supply chains to remove vulnerabilities. Other long-term restructuring to an organisation's image can include changing up the brand and even the business's place in the contemporary working and political climate.
Companies can do this by challenging and changing product and service offerings, current business strategies and practices, and how they market, advertise and shape the customer experience and perhaps how they change their core organisational behaviours.
For example, a business might use the lockdown "pause" to focus on a shift towards greater environmental sustainability, closed-loop and cyclic economy methods, net-zero energy, resource efficiency — and moving to a more sustainable and responsible business footing.
Sustainable, Responsible and Resilient Business
It has been said that the SARS outbreak of 2002-4 and 2012 MERS outbreak (both coronaviruses), and the 2014-2016 Ebola epidemic were increasingly deadly dress rehearsals for the COVID-19 pandemic. In the same way, it has also been said that COVID-19 is a dress rehearsal for the impacts from an even worse crisis to come. Such as an even worse viral pandemic, and of course, climate change.
Addressing climate change could indeed be a life-or-death issue for many businesses and the wider world. The risks related to climate change also come with massive opportunities to change to a sustainable, responsible and resilient business and resource-efficient net-zero carbon economic model that generates true Triple Bottom Line, People-Profit-Planet, benefits.
In today's hyper-connected, social media-fuelled world, business leaders are also more aware than ever of how important it is to stay relevant and even 'morally good' in the eyes of consumers.
Indeed, the research shows that ethical and responsible consumerism has reached an all-time high. Meaning that an increasing number of customers are much more conscious of what it is they are purchasing, and protest with their wallets if they have suspicions their investments could be harming the planet, adding to global land, air and water pollution, or contributing to worker exploitation and modern slavery. The exploitation of low paid clothing factory workers and the rapid 30% loss in Boohoo fashion company share price and potential negative reputation impact is a case in point. Is this yet another example of poor risk management putting short-term profit ahead of business sustainability?
The mission and ability to transform into a sustainable business footing might be innately more difficult for some businesses, but not impossible. For example, in October 2019 the fossil fuel giant Royal Dutch Shell attempted to win over some of their more eco-conscious consumers by offering an option to offset their diesel and petrol purchases to help with initiatives such as forest replanting and preservation and wildlife conservation.
The new BP CEO has gone further and set a policy to be net-zero carbon by 2050, a very ambitious target for a fossil fuel-based Energy Company.
Iceland Foods caused a storm of controversy in their favour. By creating a political campaign about banishing palm oil from its products and masquerading it as a Christmas advert. The advert was banned from television but as per the Streisand effect this only made more people want to watch it. 
Some industries have been severely impacted by the lockdown and may need a sustainability agenda to survive. 
For example, it could provide a crucial opportunity for the aviation industry to salvage its dwindling reputation by investing in less polluting engines, and even electric and hydrogen-powered aircraft. Before the coronavirus grounded almost all passenger-based flights, climate activists such as Greta Thunberg, and the Extinction Rebellion movement, were already making their disdain for kerosene-guzzling aircraft, and other forms of transport, loud and clear. 
The aviation industry has a guaranteed audience in that there will always be people willing and wanting to travel by plane, a critical and time-sensitive logistics cargo, and defence and security needs. So why not use this downtime to streamline more and greater research into cleaner, greener technologies for the future one might ask? It is already happening, slowly but surely, with some first battery-electric aircraft and imminent hydrogen fuel cell electric aircraft flights. R&D and innovation in these net-zero aviation propulsion technologies need to be accelerated and fully government and industry-backed. 
It goes without saying that environmentally-friendly practices such as these, along with others such as a reduced dependency on plastic, or the elimination of an unsustainable product or practice. Addressing these issues helps to open up new sections of the market that were previously unreachable, and to make products and services more cost-efficient and consumer attractive. And also to add business diversity and reduce business risk. 
At a government level, this is an opportunity to accelerate sustainable and energy-efficient building infrastructure programmes, more uptake of ultra-low emission transport, and to replace fossil-fuelled homes with clean energy technologies (as a few examples). An increase in the use of clean energy technologies comes with the sector's job creation that will be welcome in a time of turmoil and uncertainty in the employment market. All such sustainability revolution opportunities should be leveraged using recent government Covid-19 recovery package announcements on infrastructure and new jobs' investment.
Resilience in supply-chains
Sustainability is a current big issue, but not the only one. 'Resilience" is the associated big topic at board-level. A review of supply chains is required, and especially in areas with strong industrial footprints where there is expected to be post-virus, post-Brexit political, or military tension disruption, such as Asia. And even a review of company internal planning processes to maximise the use of inventory, reduce waste, and limit shortfalls and chokepoints in supply also could add to business resilience and reduce business risk.
Such a business sustainability and resilience review opens the opportunity to link government infrastructure and jobs investment to reshoring critical manufacturing capability. Coronavirus economy impact has highlighted the need to build national resilience in critical products such as energy, pharmaceuticals, food, PPE, medical equipment, communications equipment, and new clean energy and net-zero products and services, etc. This, if properly risk-managed, and developed in a system-of-systems way, would be a national win, win, win. A UK Triple Bottom Line (people, profit, planet) environmental and socio-economic benefit could also generate globally exportable capabilities.
For many enterprises, it could be time to consider the geographical and logistical risk of clustering suppliers all into one region. Diversifying material suppliers will help to remove vulnerability and single points of failure in supply chains and material sources. A supply chain sustainability, vulnerability and resilience risk reassessment of location and product source risk will not only be a necessary precaution against a second wave or re-emergence of COVID-19, it will be increasingly important in a century that will likely be defined by conflict, trade, climate change and political disruptions. 
Early visibility of corporate to factory floor risk is a great benefit for companies looking to manage future supply disruptions, and investing in so-called 'smart' supply chains will provide a significant competitive advantage over companies that do not. Smart, sustainable and resilient supply chains can be supported by technologies such as artificial intelligence (AI), smart manufacture, blockchain, and enhanced data analytics. They offer a much improved connectivity and visibility over the end-to-end supply value chain, and can provide early warnings and instant feedback as a potential disruption approaches. In other words, smart supply chains can help you to identify a risk before it morphs into an issue or a crisis. 
A contentious subject is that of automation. Many British businesses are exploring the automation route, and the social distancing and infection anxieties of the coronavirus will only accelerate the process. Even McDonald's is trialling robot cooks and servers. The upside seems obvious, potential returns on efficiency and fewer wages to pay. But there is also the downside of having less human capital to draw on, and the potential negative coverage that automation has at the best of times, never mind in a time of such high unemployment. These are just a few examples of the negative impact of automation and the need to proactively risk manage transformation. 
However, there are many examples of the positive impacts of automation such as reducing working in monotonous and repetitive tasks, and life-threatening environments. The use of remote working 'stand-off' technologies that are human-in-the-loop controlled in difficult conditions are areas of positive use of automation or semi-autonomous working that will require workers with higher skills, better job satisfaction and higher wages.
There will be many more lucrative and highly beneficial opportunities to take from the lockdown and the growing experience and acceptance of remote and flexible workforce working. However, given there has been no comparable aftermath to a pandemic of this scale, at least not in living memory, most businesses may lack a clear roadmap to reach them. If businesses do not plan accordingly, take an informed risk-based and system-of-systems transformation approach, there is the danger of overreach, or overambition, or just plain inappropriate decision-making, which could be ruinous to a businesses projects if not executed properly.
It is crucial, therefore, that businesses put plans in place that are appropriate to help them reach their 'new normal' ambitions. They cannot haphazardly move forward as they struggle to reinvent themselves, and shouldn't. Nor should they set unrealistic goals. Setting unreachable goals will not only shatter morale, but faith in the business itself and (if applicable) a business's share prices and other financial assets. It is better to set realistic ambitions, including targets that are actually achievable; that have workforce and stakeholder buy-in options, and that generate innovation and a company buzz and appetite to change. Over-achievement in these goals will then build confidence and enthusiasm for a more risk-managed, and appropriate, transformation. 
Planning your way out of the pandemic to the new normal
To make sure that unnecessary risks are avoided and significant opportunities are taken, robust risk assessment and system-of-systems plans will be required. These will need to be developed and implemented coherently across strategic, operational and tactical levels. 
At the strategic level a clear and agreed statement of the new policy, strategy and transformation roadmap will need to be formed, communicated and agreed and then decomposed into its constituent assumptions. What is the new company vision (ends), what are the key things that need to happen in order to achieve the new strategy (ways), what actions will company stakeholders need to implement to deliver the policy and strategy (means). The assumptions then need to be assessed for risks in a strategic assumption analysis. Different strategic options can be assessed in this way so that the best options are selected to implement at an operational level. 
At the operational level, concise change-projects will need to be defined that implement the strategy and define the schedule to achieve the new objectives. In a similar way to the strategic assumption analysis the key assumptions will need to be captured and assessed for risk and linked in a system-of-systems framework to ensure coherent delivery. However, it will also be appropriate to undertake a schedule programme risk assessment to ensure that the timescales are doable. A Strategic Target Analysis will provide a percentage chance of meeting the target milestone dates with a "roadmap" of assumptions that need to be managed in order to get from where you are predicted to be to where you want to be (e.g. from low % confidence of achieving the end date to high % confidence). 
The roadmap and programme of activity needs to be adaptable and flexible to address challenges and issues along the route, but also accelerate or change course as opportunities arise that might deliver the end result quicker, cheaper, better and more effectively and efficiently. Dogmatic adherence to an initial project plan has been the death of many an initial innovative and doable programme that has required adaptability as real world challenges appeared.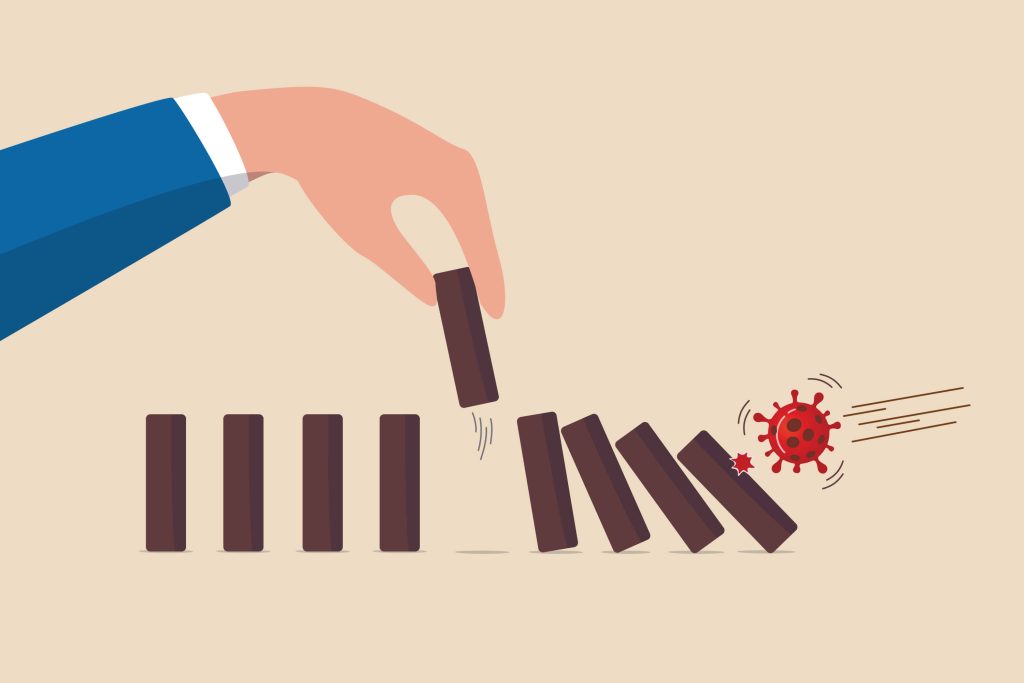 A strategic target analysis can help achieve new ambitions, along with any surprises Covid-19 may throw at us.
(Source: Shutterstock, Royalty-free stock vector ID: 1679486191)
Conclusion
"A pessimist sees the difficulty in every opportunity. An optimist sees the opportunity in every difficulty" — Winston Churchill.
Never has this been truer. Organisations (and governments) that fail to evaluate the current global situation appropriately will blindly struggle to get back to the old "normal". They will possibly struggle through a lack of planning or an inability to see the risks and opportunities in their plans. This will result in either taking a long time to get back to normal, spending a lot of unnecessary money getting there, or compromising objectives and ethos just to achieve something!
But when they get back to "normal" they may find that that is not where they want to be anyway. Either the world has changed so much that the products or services are no longer so desirable or necessary, or they have missed the opportunity to exploit the change to serve the "new normal" via a sustainable, responsible, and resilient business transformation.
Progressive organisations should re-evaluate their strategies in the light of the virus lockdown and exit from the lockdown. This must flow-down to robust operational/project plans that must be rigorously evaluated for risk and opportunity.
In this way, we can all navigate to the "new normal" quicker and safer. A more sustainable, responsible, and resilient world is required to address the next big pandemic, economic crisis, and other global challenges. A shift towards becoming more sustainable and resilient will open up enormous new Triple Bottom Line business, environmental and social opportunities in the wake of these challenges.
(Read more about our take on pandemics and Black Swan events here.) 
–
A special thank you to Maurice Dixon, Director of Sustainable Working And Living Environments Ltd, for co-authoring this article. Contact him here at 07974201733 or at maurice.dixon@swale.biz.